32-60 Inch LED and Plasma TV Panel Wall Bracket 12° Tilt 38mm From Wall Flat
Perfect for mounting ultra slim LED TVs high on the wall. Its tilt down feature helps prevent annoying reflections from showing up on the screen.
Perfect for Ultra Slim LED TVs
This is a slimline tilting bracket which sits closer to the wall than most other tilting brackets. It is designed for use with the ultra slim LED screens, but is also suitable for use with LCDs and Plasmas. However, please note that most manufacturers recommend that LCDs and plasmas are not to be mounted within a certain distance from the wall, due to heat and ventilation concerns.
Vertical Tilting Action
This is a low profile bracket but it also offers a 12 degree forwards tilt. Perfect if you wish to mount your TV high on the wall and tilt it down, for example in the bedroom or in the presence of curious young children with sticky hands. The tilting action can also help to avoid getting annoying reflections on the screen.
Features:
- Low profile 'Slimline' design
- Easily adjustable
- Forward tilt
- Free 3 metre HDMI cable
- Free reusable bubble level
Free HDMI Cable and Bubble Level
This bracket includes a free 3 metre HDMI cable and a reusable bubble level / spirit level to assist with accurate installation of the bracket. Some brackets have a small built-in bubble level, but this stand-alone bubble level can also be used for any other jobs you have!
Western Digital WDTV
There is a known issue with many HDMI cables, which makes them incompatible with Western Digital WDTV media boxes. If you are requiring this HDMI cable for use with WDTV, we highly recommend purchasing a different HDMI cable. Please note that this issue seems to be unique to WDTV boxes only, so this cable WILL work with other devices.
Screws/Bolts
This bracket includes a variety of screws/bolts which are suitable for most installations. Unfortunately, due to the enormous range of TV brands and models available, we're unable to guarantee that the included fixings will suit every installation.
As with all wall brackets, if mounting on plasterboard walls it is essential that this bracket is fixed to a timber stud.
This bracket can also be mounted on brick/concrete walls.
Will it fit my screen?
It's pretty easy to work out if this bracket will fit your screen:
1. First just measure your screen, the bracket is 800mm wide and the arm height is 480mm so as long as the outside of the screen is wider and taller than that, the bracket will not be visible from in front of the TV.
2. Check the mounting holes on the back of the screen and measure how far apart they are. The bracket will fit screens with mounting holes a maximum of 768mm wide and 455mm high (centre of hole to centre of hole).
Specifications:
- Forwards Tilt: 0 to 12 degrees
- Distance from wall: 38mm
- Maximum weight capacity: 80kg
- Total width of bracket: 800mm
- Total height of bracket: 480mm
- Maximum mounting hole spacing (horizontal): 768mm
- Maximum mounting hole spacing (vertical): 455mm
- Suits VESA standards up to 600x400mm
(UT32-60)
Be The First To Review This Product!
Help other antennawarehouse users shop smarter by writing reviews for products you have purchased.
Others Also Bought
$1.76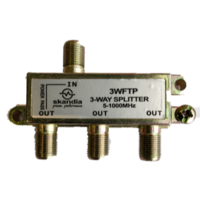 $2.53